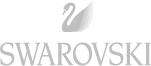 Swarovski SK0250-K 33U
Glasses size
What is my size?
Shipping date:
Friday 28.1.
All variants of this product:
About Swarovski
You think you know everthing about Swarovski and its shimmering crystal pieces of jewlery? Have you heard of its sparkling exclusive collection of glasses? Let it highlight your natural beauty and your sense of style!
About these glasses
The shape is known as cat eye, which is a great match for oval and rectangle-shaped faces. The frame colour is pink, a colour that will definitely draw attention to your eyes. The frame colour is one of the trendiest colours available, rose gold, which, for those of you with warm skin undertones, is a particularly well-suited match. The lens colour is pink, which improves visual depth and reduces eye strain. The lenses are covered in a mirrored coating, which helps your vision by tempering bright light circumstances. The material is mainly made of metal, which is highly durable and gives that sleek, stylish look. These frames have an elegant matte finish.
Original products
We sell only original brands and products. When you order glasses from Alensa, they are already in stock and will be delivered to your doorstep in the shortest possble time. We strive for the most complete customer satisfaction. In case our products have not met your expectations, please contact our customer service team who will work to attain the best resolution.