Our tips on how to deal with foggy glasses because of your face mask
If you find yourself reading this, then you're probably one of those people who now has to combine their glasses with wearing a face mask. This means you've experienced how easily your glasses fog up. To help you, we've prepared six -- plus one extra -- tips on how to prevent this from happening.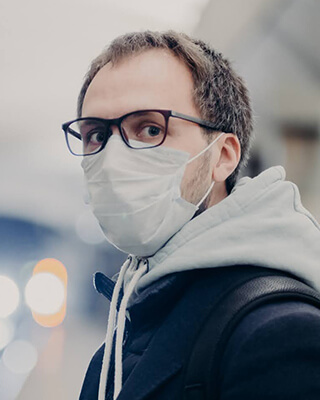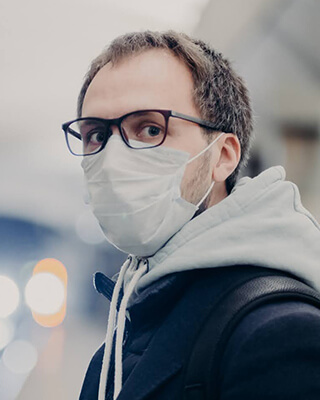 1. It's important to choose the right face mask!
Make sure you've got a face mask that fits snugly around your nose. Some loose-fitting masks may leave too big of a gap around the nose. Try to make or get a mask that has a metallic strip or wire which can be moulded over the nose bridge. This will prevent your breath from escaping via any gaps around the nose area and from fogging up your your glasses.
2. Keep your mask close to the eyes and position your glasses lower.
Put the face mask as close to your eyes as possible and wear your glasses slightly further down from your face. This will stop the glasses from becoming dirty and foggy. Make sure not to touch your glasses too often, if possible. Keep in mind that repositioning your glasses will shift the focal point of your lenses. This may affect your sight in case you're wearing multifocal or progressive glasses.
3. Use a bit of household dish soap!
At the beginning and at the end of the day, use some lukewarm water with a few drops of household dish soap to clean your glasses. Afterwards, wipe them dry with a microfibre cloth. Keep a cleaning cloth with you at all times during the day. Anti-fog wipes or sprays can of course also help you out a lot!
Note: use basic dish soap and avoid scented, harsh or moisturizing soaps as those could harm lens coatings. So, make sure to only use gentle and non-abrasive dish soaps for your glasses.
4. Try regular soap if you don't have any dish soap.
Using a regular bar of soap will also help disinfect your glasses and prevent the lenses from fogging up. Apply it, let it sit for a while and then wipe it up. Liquid soap, on the other hand, will not have the same effect. Make sure to not clean your glasses with alcohol, as this may damage not only your lenses but also your frames.
5. Daily lenses are more practical during these times.
The easiest way to avoid foggy glasses is to simply switch to contact lenses. In times of infectious diseases, daily lenses are the best and most hygienic lens option. Be sure to wash your hands thoroughly before inserting or removing them and avoid touching your eyes during the day.
6. Get glasses with a hydrophobic coating. You can purchase them online without having to visit an optician.
For your next pair of glasses, get ones that have a hydrophobic lens coating. This coating will act as an anti-fog layer that'll also prevent other dirt from adhering to the lenses. Don't feel like going out to visit your optician or stuck at home? No worries! If you're in possesion of your prescription, you can virtually try on and order glasses online. In just a few days, you'll get your ready-made glasses delivered to your home. Remember that glasses can serve as a shield that blocks viruses.
Our final tip - shaving foam!
You may not have thought of it but shaving foam is also highly effective at preventing lens fog. Apply a small amount of foam on your glasses and use a suitable cloth to polish them until dry. This creates a clear protective layer on the lenses which prevents condensation.
TIP FROM ALENSA:
All of our prescription glasses automatically come with hydrophobic lenses! This hydrophobic layer repels water and other particles, which means that the lenses won't get dirty and foggy as easily.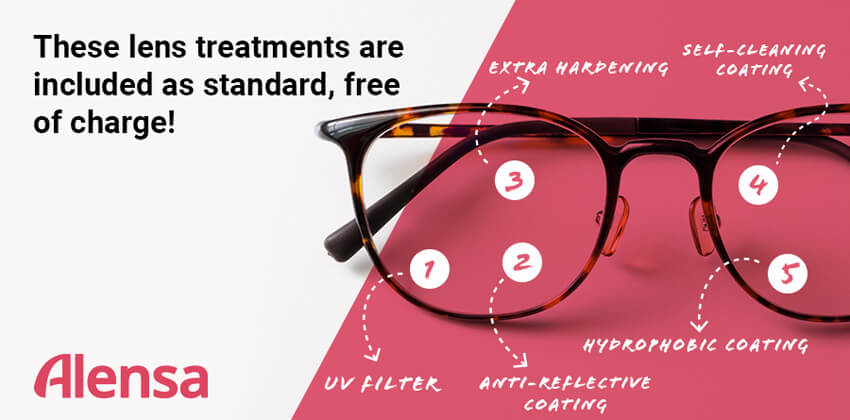 You no longer have to visit your optician to get a new pair of glasses! Once you know your prescription, you can order them online. Worried about how they'll fit? Simply use the virtual mirror to try them on! The advantage is that all our glasses have a standard hydrophobic coating, among other finishes. So, check out our selection of prescription glasses today. We will deliver them straight to your door during this difficult period!